Be an Intentional Teacher
Over the past few months, I have spent many hours thinking about what kind of experience I want my students to have in my classroom. I've developed curriculum with specific academic and life outcomes in mind, I've set expectations and procedures in the hope of optimizing the student learning experience, and I've created new games to add a higher level of academic value and engagement to my lesson plans. But as the first day of school fast approaches, what I am most focused on is setting my intention and purpose for my work as a middle school health and P.E. teacher.
During the past few years, I have gotten in the habit of asking my students to set their intention at the beginning of class. I have adopted this practice not as a way to bring a new-agey mentality into my classroom, but rather as a way to train my students to be intentional with their actions and choices. As summer quickly comes to an end and I finish my final back-to-school preparations, I find myself pausing for a moment to set my intention for this school year.
So as my final back-to-school prep, I thoughtfully wrote out and printed my intention...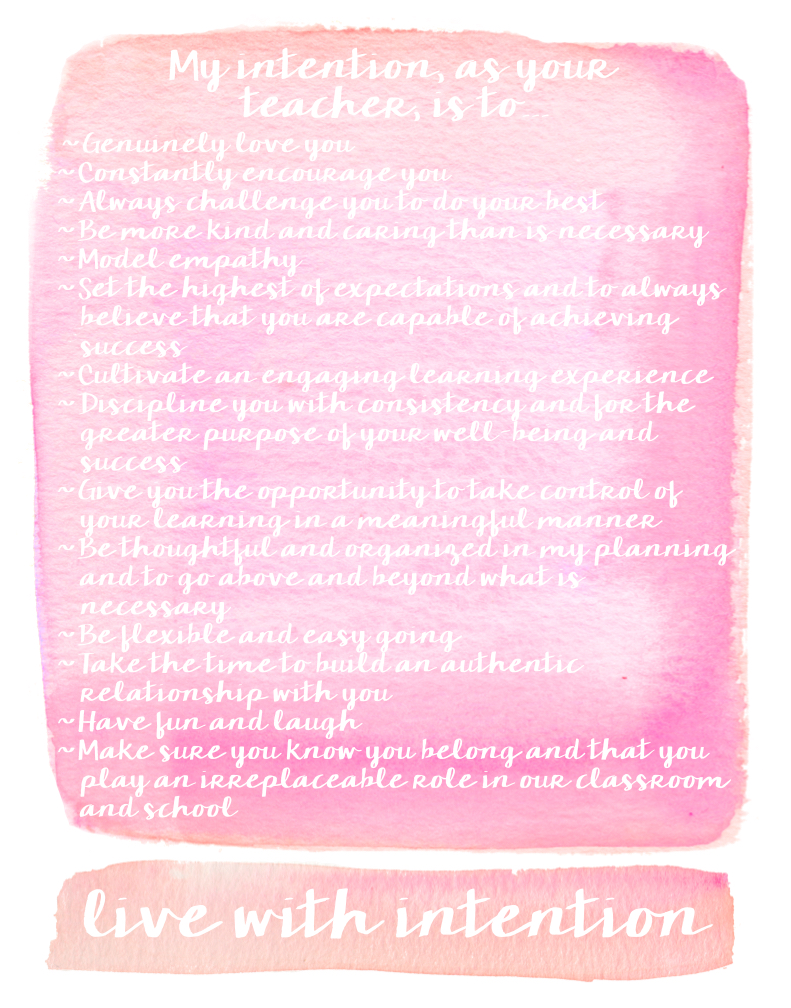 This poster proudly hangs front and center in my classroom to serve as a constant reminder to be an intentional teacher!
***And I must give a huge shout out to Angie Makes for the free ombre watercolor backgrounds!
Grab the freebie featured in this post, along with 30+ other free goodies in our Free Resource Library! Sign up below for instant access.
A middle school health teacher turned curriculum developer (and #WAHM). I'm on a mission to share the easiest-to-teach, most impactful health lesson plans on the Internet. Because your time and energy is better spent on teaching and connecting, not on planning and prep.