Minute to Win It Field Day
How to Plan An Epic Field Day
Day 180 is fast approaching! And for this PE teacher, it means that Field Day is almost here!
Last year, we decided to change it up and ditch the traditional track and field style Field Day. Instead, we opted for a Minute to Win It Field Day! We were wanting an indoor alternative (a necessity in the rainy PNW) that was suitable for all athletic abilities and offered minimal downtime. And a Minute to Win It Field Day hit all three targets!
Organization Details:
Here's a look at how we organized the day.
Student Groups - All of our students (about 350 in all) are already divided into Advisory classes (20 ish students). These groups became our Field Day teams.
Game Locations - Each game took place in a different classroom. Groups just started in their Advisory classroom.
Game Leaders - Every year for Field Day, a few high schoolers come and volunteer. We assigned a high schooler to each game and they led it throughout the day. If you don't have high schoolers, parent volunteers would be another great option. 
Rotation - We did eight-minute rotations. At the end of the eight minutes, students and their teacher moved to the next classroom (a pre-determined rotation was emailed to the teachers ahead of time). ***The Advisory teacher moved with the class and the volunteer stayed in the classroom monitoring the game.
Supplies - We collected, organized, and delivered all of the supplies needed for the games the day before Field Day.
Set Up - We asked teachers to do help us with the setup. Here's what we asked them to do:
Have the instruction video set up ready to be watched by each Advisory class.
Set up four stations of your activity.
On the morning of, please do a quick run through of the game with the volunteer (they will be stationary in the classroom the whole day).
The Games:
Here's a look at all the games the students played! If you need more just google Minute to Win It games and there are tons to choose from. 
Mega Bubble

Supplies: 4 hula hoops, bubbles, string
Junk in the Truck

8 empty Kleenex boxes connected to 4 football flag belts, 20 ping pong balls
Hoop-da-loop

12 2L full of water, 12 hula hoops
Pedometer Challenge

20 pedometers, 4 stopwatch (or phones)
This Blows

4 tables, 350 balloons, 60 plastic cups
Penny Hoes

4 sets of pantyhose, 8 coins
Face the Cookie

350 cookies - students got to eat their cookie afterward
Rapid Fire

bag of rubber bands, 24 soda cans
Ka-Broom

4 brooms, 4 mugs, plastic plates, bags of marshmallows
Stick to It 

8 lint rollers, 24 ping pong balls
Split the Uprights

4 paper footballs, 4 big bowls
Mouth to Mouth

4 playing cards. 8 glass soda bottles, 4 tables
Matchmaker

60 marbles (20 of each color), 72 cups
Bucket Head

4 buckets, 12 ping pong balls
Tilt-a-Cup

20 ping pong balls, 20 plastic cups
Stick the Landing

4 half filled water bottles
Suck it Up

Bags of candy (4/student), 16 cups, 350 straws - Students used a spoon to scoop out four pieces of candy. Then they with their own straw they to suck up the candy and transport it to the other table. After the minute, students could eat their own candy.
Final Thoughts
Minute to Win It! Field Day gets a big thumbs up! The students had a great time. Everybody could be involved in each rotation. And the variety keeps students excited and engaged. We'll definitely be using this again in the future and I'd suggest it as a Field Day (or classroom party) option for teachers everywhere!
Enjoy!!!
P.S. If you enjoyed these activities with your students take a look at how I do Fitness Warm Ups!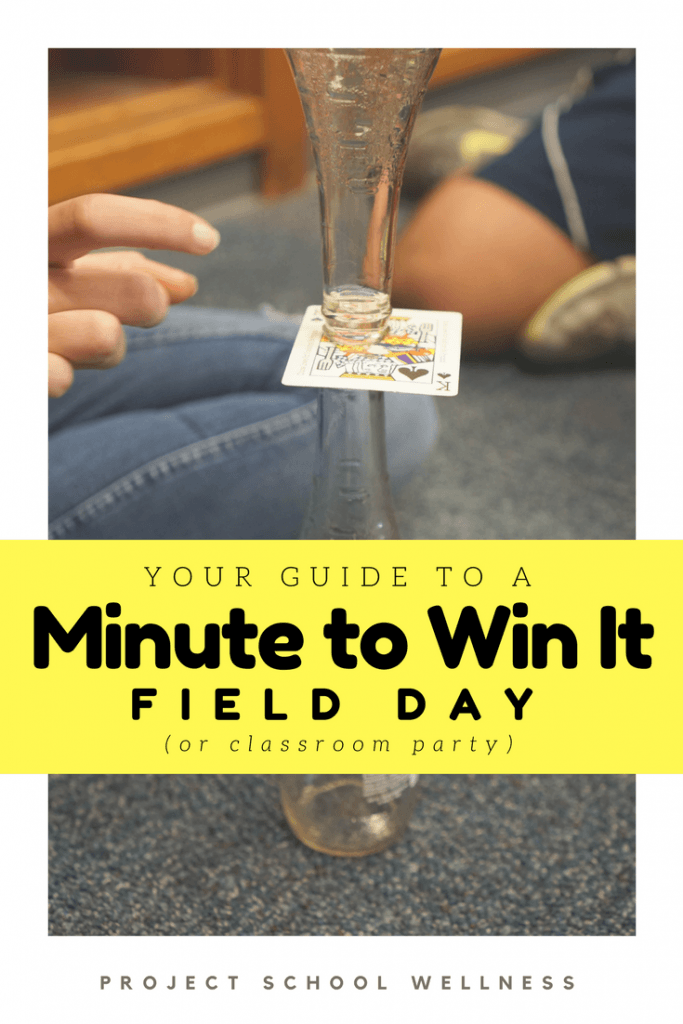 Free Intro to Health Unit Plans
We've got you covered! Get instant access to five free health lesson plans for in-person or digital instruction.
A middle school health teacher turned curriculum developer (and #WAHM). I'm on a mission to share the easiest-to-teach, most impactful health lesson plans on the Internet. Because your time and energy is better spent on teaching and connecting, not on planning and prep.