How To Write A Mission Statement
Free Health Education Lesson Plans
Have you ever had one of those teaching days where everything clicked? The kids are all on task, engaged, and producing quality work! 
It sounds like a fairy tale. Simply too good to be true, right???
Guess what??? Last week, I had one of these amazing classes. And it was incredible. #blessed
[Tweet "Have you ever had one of those teaching days when everything clicked? #blessed #teacherdreams"]
Writing Mission Statements
My 8th graders were diving into our Spiritual Health mini-unit, getting ready to write mission statements.  I was a bit nervous because it really isn't an easy process. I mean, just think back to the joys of writing your philosophy of education in college.
Because of the complexity of writing mission statements, I tried to scaffold it as much as possible (with the bulk of the foundational knowledge being laid during the previous year's unit on Spiritual Health).
We began by refreshing on the definition of Spiritual Health and the term "values."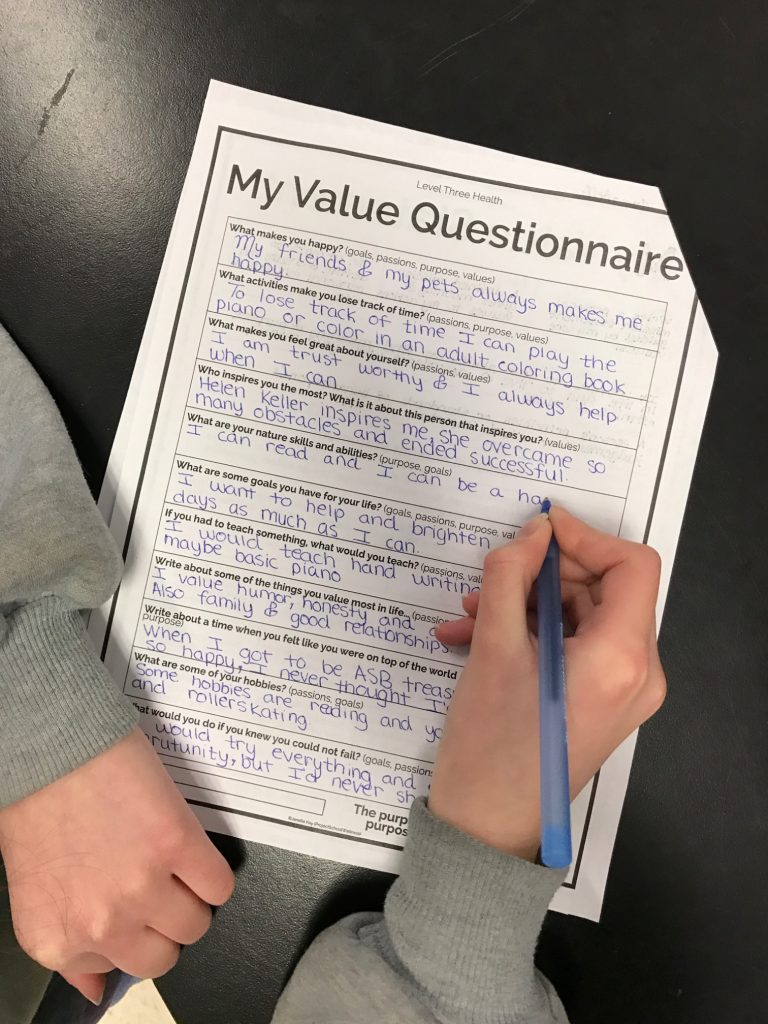 Free Mission Statement Writing Activity
Next, up, students thoughtfully and thoroughly filled out a "My Mission Questionnaire" to help define their goals, passions, purpose, and values. This was a pivotal step in the writing process. It helped turn the very abstract idea of a mission statement into something tangible.
Free Mission Statement Writing Activity
Then, students took time reflecting on the questionnaire to craft answers to four prompts (each connecting to an element of their mission statement)...
In life, what I value most is…

My greatest passion in life is…..

I believe my purpose in life is to…
My highest goal in life is to …
By this point, if students had been deliberately and thoughtfully going through the brainstorming process, writing their mission statement was easy as pie. All they had to do was grab their Chromebooks and get to work.
Free Mission Statement Writing Activity
Tah-dah, I am so proud of my 8th graders! And beyond impressed with the quality of their work. I can't even begin to imagine what's to come if they're able to produce this kind of introspection as 13 year olds!
[Tweet "Mission Statements Made Easy - A middle school writing activity"]
A gift for you...
My dream is for middle schoolers across the globe to discover and define their purpose! So, I am sharing this activity with you!
Download How to Write A Mission Statement Lesson Plans
Teach students how to write thoughtful mission statements with this free resource. Sign up and instantly download.
A middle school health teacher turned curriculum developer (and #WAHM). I'm on a mission to share the easiest-to-teach, most impactful health lesson plans on the Internet. Because your time and energy is better spent on teaching and connecting, not on planning and prep.