My Wellness Wheel Health Activity
A Free Wellness Wheel Lesson Plan
Today, I'm sharing my absolute favorite tool for teaching students about health, the Wellness Wheel.
Just in case you're new here, I teach health using a comprehensive approach with the goal of building sustainable wellness. Meaning, I teach my students that health is multidimensional concerning so much more than just the physical body.
This can be quite a foreign concept for students to understand. So I've found that the Wellness Wheel visual is the easiest tool to help students understand that health is multifaceted.
how the wellness wheel works
The Wellness Wheel represents a person's life and their total well-being. It works like this:
Use the inner rings of the wheel to rate

yourself in each dimension of health as either

low, healthy/average, or high 

(see below)
After rating

yourself, you assess your well-being

:

The more it's like a functioning wheel,

the more

you're thriving
The more it looks like a broken wheel or flat tire, the closer you are to the surviving

end of the spectrum
why it's such a great teaching tool
It's simple and easy to understand making it the perfect tool for teaching students about well-being. The visual helps students see right away which type of wheel they'd want on their bike or car, the thriving intact wheel.
Students are also able to quickly understand that each area of life (the dimensions of health) plays a role in supporting the wheel (a.k.a well-being). Therefore, each dimension is important and should be focused on.
Once students understand these ideas, the Wellness Wheel becomes a guide for everything else we do in class.
What the Wellness Wheel teaches us about creating well-being
As students become more familiar with the Wellness Wheel here are a few of the concepts I'm able to teach them using this tool:
Well-Being Is Multidimensional
Each wedge represents a different component of health and well-being: environmental, financial, intellectual, mental & emotional, occupational, physical, social, spiritual. 
Everything's Connected
The multiple dimensions of life are powerfully connected. Each component of well-being influences and impacts others. This means all components of vitally important and all should be intentionally acknowledged.
You Can Only Give So Much
We each have our limits. The reality is that you only have so much you can give in life. This means that if you give too much to one area (like occupational health), you must take energy from another component (like social health).
Simply put, you can't be off the charts in one area and expect to experience balance in your life (i.e. most politicians, many extremely successful businessmen and women, nearly every professional athlete).
Life Is Fluid
Last but not least, life is fluid. The makeup of your Wellness Wheel doesn't determine what it will be in a few weeks/months/years from now. Our well-being is fluid as we have the power to adjust and bring balance to our lives.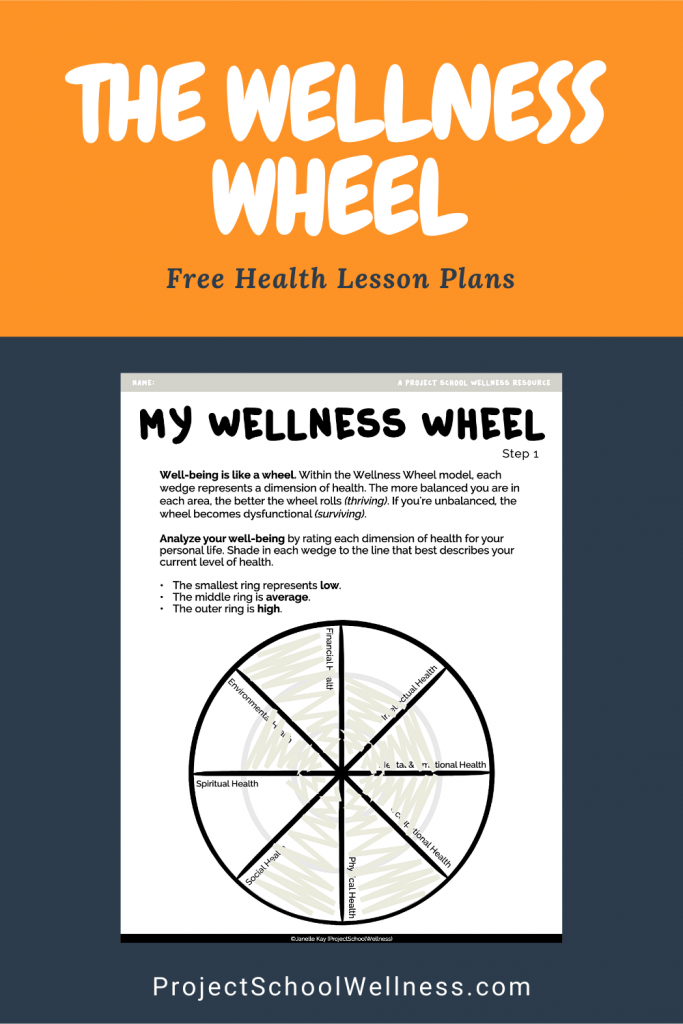 What does this mean for your students?
Understanding the Wellness Wheel is the foundation of understanding how we can empower students to thrive. And now that you are a Wellness Wheel expert let's discuss what this means for your classroom.
First and foremost, we do our kids a disservice to be solely focused on academic objectives. We must create space for each of the elements of well-being to be strengthened.
Next, take advantage of the connectedness of our well-being. Use it to spark interest and passion in your students. By this I mean, connect your academic focus to other areas of well-being. For example, speak candidly about how the grit and growth mindset needed to read and understand a challenging novel connects to the ability to use grit and growth mindset to achieve future career or athletic goals.
Finally, set the example. Learn to apply the Wellness Wheel to your own life and actively work to create balance. But don't stop there. As you use it, openly share your wellness journey with your students. I know it may seem risky, but exposing your vulnerability empowers students to do the same.
Tah-Dah! Now you're ready to use the Wellness Wheel in your classroom. Simply sign up here to get this free resource in your inbox!
P.S. Here's a wellness tip for you!
When I am in a funk and not quite sure why, I like to fill out a Wellness Wheel. This simple exercise helps reveal the underlining issues of my gloom and empowers me to actively bring balanced to my life. It is amazing what a little self-reflection reveals.
Grab the freebie featured in this post, along with 30+ other free goodies in our Free Resource Library! Sign up below for instant access.
A middle school health teacher turned curriculum developer (and #WAHM). I'm on a mission to share the easiest-to-teach, most impactful health lesson plans on the Internet. Because your time and energy is better spent on teaching and connecting, not on planning and prep.