What is Comprehensive Health Education?
A look at Why Comprehensive Health Education is a Must!
Health Education for the Real World
What are the first things that come to mind when you hear the word "health?" I'm guessing it's something like this...
Working out

Sleeping 8+ hours 

Eating a balanced diet 

Drinking water 
And you wouldn't be wrong. Taking care of your physical body plays a huge role in establishing optimal well-being. But...it's only a piece of the puzzle. Why? Because a person's health and well-being is comprehensive and determined by so much more than how physically fit you are (I mean if Physical Health was all that matters celebrities and athletes would be the happiest, most content people in the world, right?). 
So what exactly does this mean for health education?


Well, let's first look at the definition of comprehensive health. Health is the overall condition of a person (beyond being sick or not sick), referring to the total well-being of an individual. 
In looking at this definition, comprehensive health education can be defined as an educational approach focused on addressing the complex and interconnected elements of a person's life that impact personal well-being. Essentially, the goal is to teach students the necessary health skills and functional knowledge needed to actively and intentionally take ownership of all aspects of their well-being and nurture optimal health.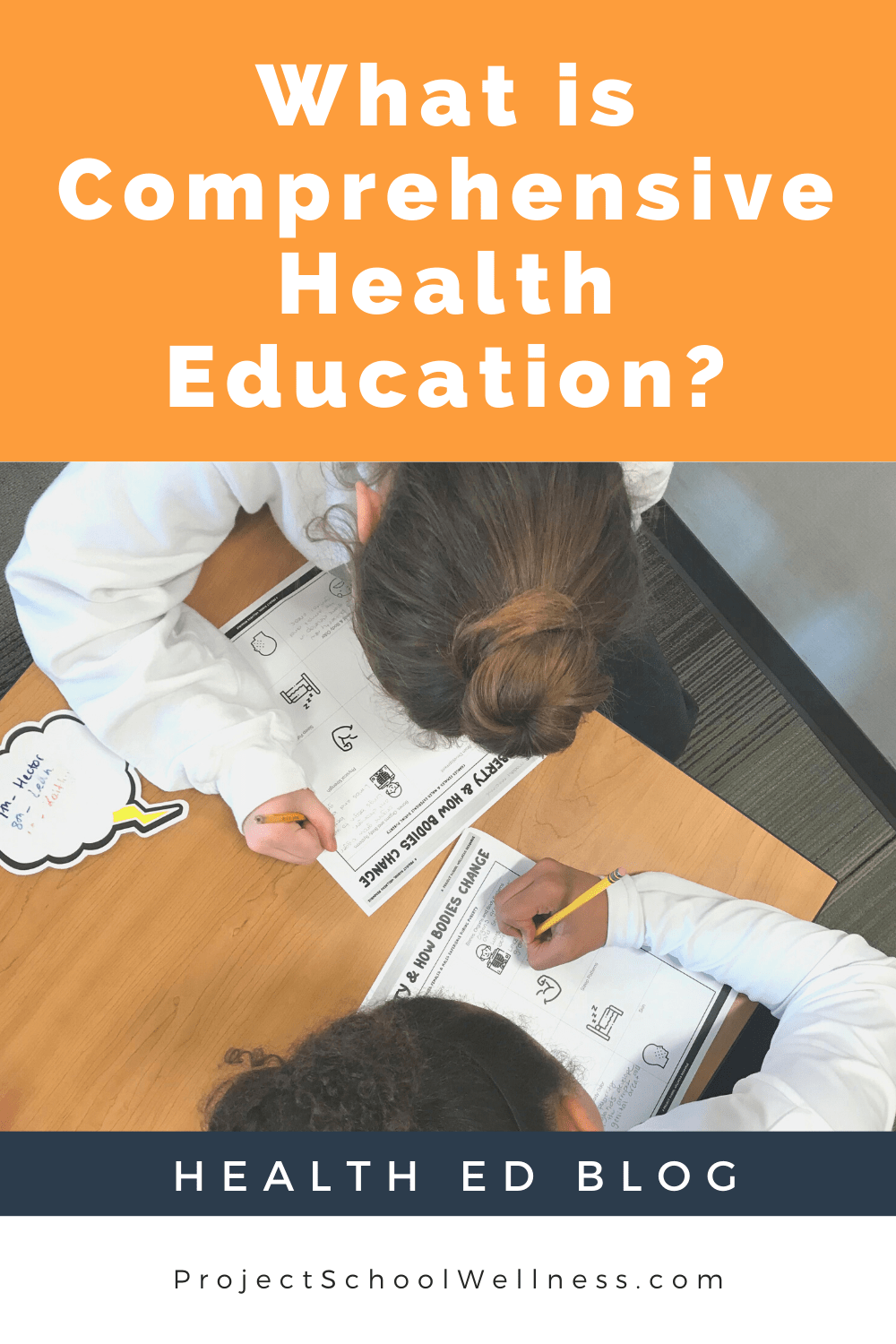 To help better understand what comprehensive health looks like, let's pause for a second to review the Wellness Wheel. The Wellness Wheel is a visual representation of a person's well-being, with each wedge symbolizing a core area of a person's life. These core areas are called the dimensions of health (or dimensions of wellness). Each dimension of health plays an important role in determining a person's level of health and happiness. And to reach a high level of health and happiness, a person needs to intentionally strengthen each wedge of their Wellness Wheel.
Free Intro to Health Lesson Plans
So what are these dimensions of health (dimensions of wellness)? If you start to research, you'll see that each theory presents slightly different dimensions of health. Here's a look at the most common:
Health triangle with three dimensions 

Wellness wheel with six dimensions

Wellness wheel with eight dimensions

Wellness wheel with ten dimensions - Click to learn more about each!
Whether you use the health triangle or the Wellness Wheel with six, eight, or ten dimensions of health or another health theory altogether, I believe the power of each tool is that it teaches students that health is multidimensional and that the dimensions health of are interconnected. And understanding these two principles is fundamental if students are going to take ownership of their health and create a thriving life.
Here's a brief overview of the different models (click on the various dimensions to learn more):
Personally, I recommend using one of the more layered approaches (six, eight, or ten dimensions) over the health triangle, especially in middle and high school. While students may not fully understand the complexity and inner workings of each dimension, building awareness and creating a foundation to grow upon is critical to nurturing optimal well-being as a student goes through life. 
The Interconnectedness of Health
Another key aspect of comprehensive health education is understanding how the dimensions of health are interrelated. This means the status of one dimension of heath (the cause) creates a reaction in another (the effect).
Here are a few examples: 
When we feel connected and that we belong, our confidence and happiness levels boost, and we feel safe and secure (Social + Emotional & Mental Health)
Your meaning and purpose (Spiritual Health) connect to what you study (Intellectual Health), what career you choose (Occupational Health), how you spend your money (Financial Health), who you hang out with (Social Health).
Learning how to deal with social conflict (Social Health)

is key to achieving

work or school success

(

Occupational Health

). Social

 friction is inevitable

 in the workplace, but when we develop strong social skills, we're able to 

navigate these tricky situations and succeed. 
So why exactly does this matter? Well, it's because understanding how the dimensions influence and impact each, further enhances our ability to nurture and boost the various dimensions, thus our total well-being. And if we fail to recognize how connected the areas of our life our, we can only strengthen our well-being by so much.
Teaching Comprehensive Health
Now that we've addressed the basics, let's chat about how you actually teach comprehensive health and truly impact behavior (P.S. This is just one example and there are many approaches to take, so feel free to take this an adapt to it however you'd like)!
Step 1: Create a Foundation
Start by building a foundation and giving students a framework to follow - a.k.a. The dimensions of health and show students how the dimensions work together (interconnectedness of health) and helping students understand that they need to take ownership and control of their well-being. P.S. Our free Intro to Health module covers these topics! 
Step 2: Build Functional Knowledge
Build off a basic understanding of health by making each dimension of health relevant. By this I mean identifying the health issues in life students are actually dealing with that relate to each dimension. For Example: 
A Final Thought on Teaching Comprehensive Health
To briefly recap, there are many approaches to teaching comprehensive health. And you'll find that one that best fits you and your students. I just recommend that whatever structure or set up you choose, start by talking about the multiple dimensions of health and the fact that they are interrelated.
I also wanted to leave you with this thought:
It's all about planting seeds! - It's easy to get discouraged when we don't have enough time to fully teach topics or if we don't see an immediate change in our students. So it's really important to remember that so much of what we're doing is planting seeds and helping to create a foundation that students can build on as they grow up.
Free Intro to Health Unit Plans
We've got you covered! Get instant access to five free health lesson plans for in-person or digital instruction.
A middle school health teacher turned curriculum developer (and #WAHM). I'm on a mission to share the easiest-to-teach, most impactful health lesson plans on the Internet. Because your time and energy is better spent on teaching and connecting, not on planning and prep.