12 Social Skills Every Middle School Needs to Learn
+ Free Classroom Posters & Checklist
Teaching students how to build positive social lives is a must. And not just because middle schoolers are obsessed with their social lives. But because the status of our social well-being matters a lot. Like, determine the overall quality of your life a lot (watch this).
Connection. Friendship. Belonging. Not only are these the driving forces of our social well-being but also the foundation of happiness, confidence, and security. And what's more important in life than being happy, living with confidence and feeling secure???
Simply put, increasing social well-being increases overall well-being! So how do we boost student social well-being?
12 Social Habits Every Middle Schooler Needs to Learn
Enhancing social well-being all starts with learning how to be a good friend. So to teach my students how to be a good friend, I put together a list of 12 social habits that everyone, not just middle schoolers, can practice to build healthy relationships!
The "Be a Good Friend" List:
1. Smile and say hello. This simple act is like opening a door to the possibility of new relationships.
2. Be brave. Leave your comfort zone. You're never gonna make new friends if you play it safe. Sit at a new table a lunch. Join a club that none of your friends are in. Partner up with a stranger in PE.
3. Always choose kindness.  Kindness begets kindness. It's really quite magical.
4. Be genuinely interested. People feel so honored when you pause to genuinely be interested in their life. It is such a simple way to show that you care.
5. Experience empathy and see the world from different perspectives. Everyone is walking a different path. Taking the time to understand someone else's journey powerfully impacts the way you see the world and enhances your ability to connect with others.
6. Laugh and have fun! Don't take life too seriously, just enjoy the ride.
7. Be loyal, trustworthy, and honest. You can never go wrong by being loyal. keeping people's secrets, and sharing honestly.
8. Show up. Show up when it's easy and fun. Show up when you say you're going to show up. Show up when it's hard and uncomfortable.
9. Be present (Yes, that means getting off your phone). Don't let your phone block your view of reality.
10. Listen intently. We all want to be heard. Take time to fully and wholeheartedly listen to people when they open up and share.
11. Be humble and apologize when you mess up. You're gonna mess up. It happens and it's okay. That's life. So when it happens, own it, apologize, and grow from the experience.
12. Be you. There's the only one you. Don't deprive the world of your unique self.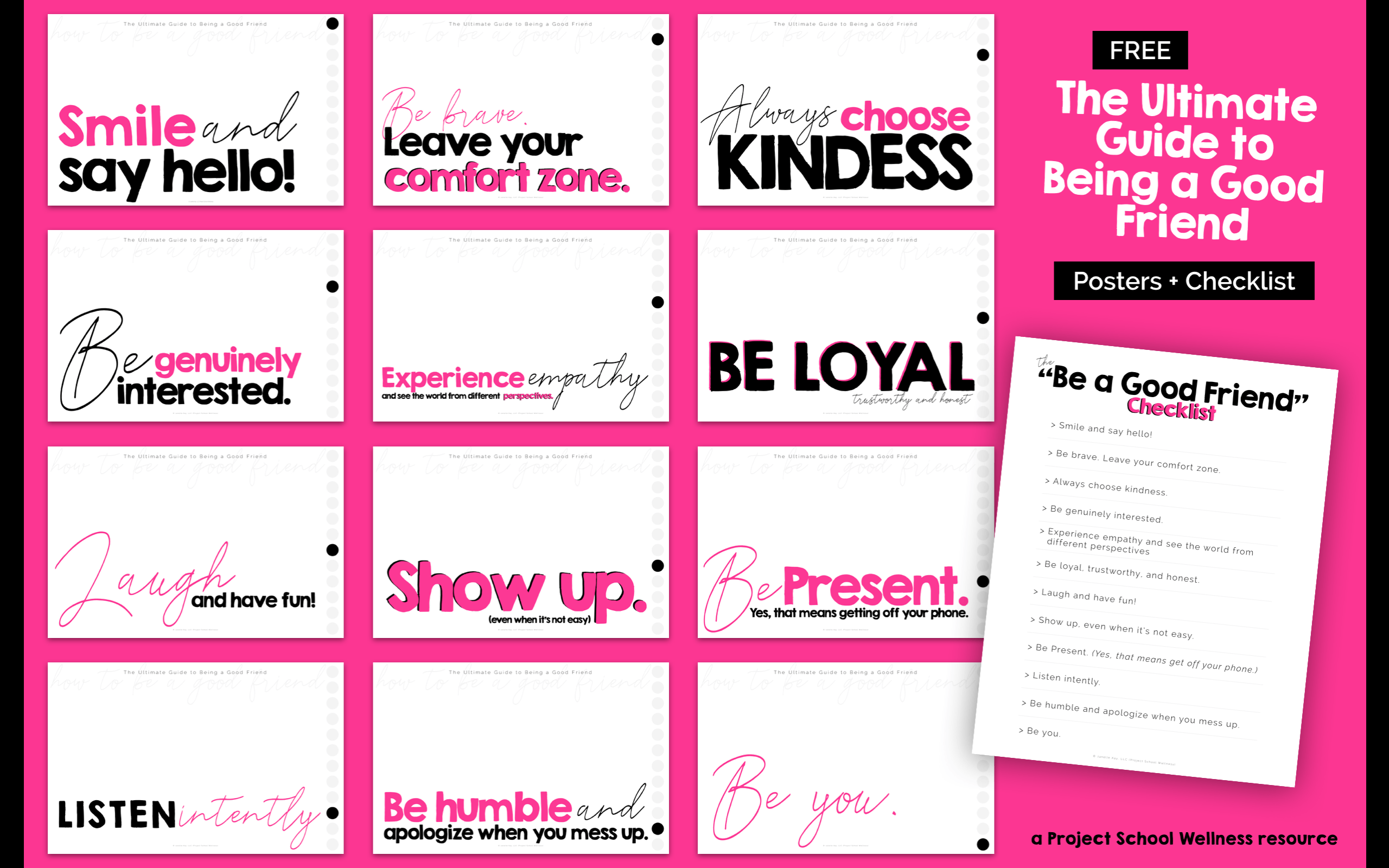 How can you promote these habits in your classroom?
Middle schoolers need to hear things a lot before they actually digest it. Like a lot. Unfortunately for us, that means it doesn't cut it to only talk about how to be a good friend once in a while. Instead, on a daily basis we need to:
Model these social habits
Coach our students as they nurture these traits
Remind students constantly what a being a good friend looks like
While I can't help you model these characteristic or coach your students for you, I do have some free resources to help remind your students how to be a good friend.
The "Be a Good Friend" Checklist  - -  Use this checklist as a quick reminder in student binders, above water fountains, in the bathroom, and on lockers.
How to be a Good Friend Classroom Posters - - Keep these 12 social habits on your student's' minds with these bulletin board posters in your classroom or in the hallways.
Looking for more info on social health...
Just in case you're wanting more info about social health, be sure to check out these resources:
[Blog Post] Wellness Basics: Your Guide to Social Health - click to read
And be sure to tune into my next post because I'll be talking about how to create a standard of kindness in your classroom and school.
Grab the freebie featured in this post, along with 30+ other free goodies in our Free Resource Library! Sign up below for instant access.
A middle school health teacher turned curriculum developer (and #WAHM). I'm on a mission to share the easiest-to-teach, most impactful health lesson plans on the Internet. Because your time and energy is better spent on teaching and connecting, not on planning and prep.