The Project School Wellness Curriculum
A Comprehensive, Skills-Based Health Middle School Curriculum
(Plus Five Free Lesson Plans)
For the past two years, I've been working on a huuuuge project and today I get to share it with you! I'm sooooo excited to finally announce the official launch of the Project School Wellness Curriculum, a middle school health education program unlike anything else.
Skills-Based Heatlh Curriculum Details
Every aspect of this curriculum was created with the goal of providing you with insanely easy-to-use, relevant, and engaging teaching materials. Here's an overview of what's included:
It comes with 90 engaging and relevant lesson plans so you can profoundly impact student well-being that have been optimized for the digital classroom!
A teaching instruction video and written instructions for every single lesson so you don't need to spend any extra time planning and prepping (Repeat: No. Extra. Planning.).
Teaching PowerPoints for each lesson to help guide students through the activities.
Student worksheets as PDFs and Google Slides.
Digital learning activities like Google Forms (learning stations) and Boom Cards! Anything that needs printing also comes with a Google Forms, Google Slides, or Boom Card option.
Grading rubrics for quick and meaningful assessment so you don't have to spend countless hours grading papers.
An answer key with teaching examples for every lesson to help you share powerful examples with your students.
Free updates for life! Yes, with a one-time purchase you have access to any updates or add ons to this curriculum so your instruction can continue to grow and evolve!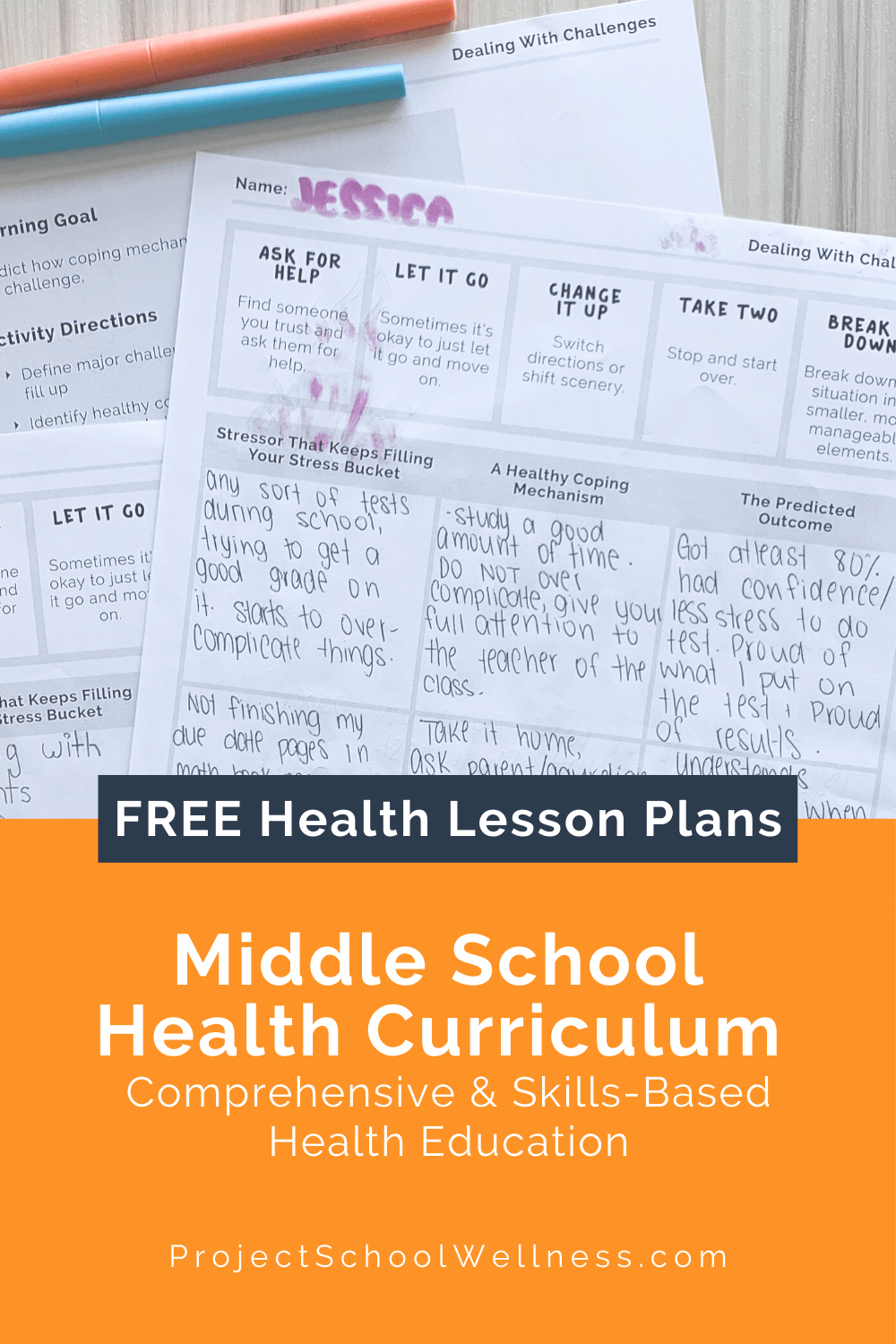 The Project School Wellness Approach
The Project School Wellness approach to health is not your everyday health curriculum. We go beyond the old school physical health only approach to teaching health. We're not focused on getting every kid to run faster miles and memorize dietary guidelines (not that those are bad goals). Oh no, we've got our dreams set on something much bigger - empowering every student to thrive!
And at Project School Wellness we understand that thriving doesn't come from just being physically healthy!  You see, we wholeheartedly believe that health is multidimensional and that the dimensions are interconnected! This means that students must understand and learn how to strengthen and sustain each dimension of health (Not. Just. Physical. Health.).
I know it sounds like heavy stuff. But don't worry, we've got you covered! This curriculum comes with everything you need to establish a meaningful skills-based health education program (see above).
Skills-Based Health Creates a Lasting Impact on Well-Being
Our curriculum presents a skills-based approach and is scaffolded into three levels. Students begin this curriculum with an introduction to total health (Get this module for free!) and each of its dimensions. As they progress through each level, they are introduced to more complex and detailed elements of the dimensions of health.
This teaching framework helps empower students to build sustainable health and happiness by helping them master vital health skills and functional knowledge!
The individual levels of the curriculum feature ten modules, each relating to specific dimensions of health and highlighting various health skills. Here's an overview of the included modules:
Free Intro to Health Lesson Plan Bundle
Flexible Teaching Options
Not only is the curriculum incredibly easy-to-teach, but it's also super flexible! It can be used in a number of ways, to fit any teacher's needs! Here are a few teaching options to consider:
An add-on to a physical education class by teaching health two or three days a month.
The sole curriculum for a middle school health course.
Curriculum for an Advisory program or in a Homeroom class.
School counselors can use it as part of a comprehensive school counseling program.
Along with flexible teaching options, there are a few options for purchasing. Every teacher is different and Project School Wellness' goal is to provide the perfect solution for you. Here are a couple of ways you can integrate this curriculum or elements of this curriculum into your classroom:
The Full Curriculum

This option comes with 90 easy-to-use lessons, instruction videos & teaching guides, answers keys & grading rubrics, Google Slides worksheets, quick print options, and classroom posters!
Teaching Bundles 

Topic-based bundles are also available! Lessons have been curated from each level of the Project School Wellness Curriculum to create meaningful learning experiences.
Individual Lessons

You can also buy individual lessons. Here are a few of the available lessons:
Well, that's everything! I seriously can't tell you how excited I am to share this curriculum with you! And I'd loooove you to take a peek at it!
Sooooo, I have a special preview just for you. Fill in your info below and I'll send it right over to your inbox!
Free Intro to Health Unit Plans
We've got you covered! Get instant access to five free health lesson plans for in-person or digital instruction.
A middle school health teacher turned curriculum developer (and #WAHM). I'm on a mission to share the easiest-to-teach, most impactful health lesson plans on the Internet. Because your time and energy is better spent on teaching and connecting, not on planning and prep.